The Kiwanis Club of Patchogue was chartered May 5, 1938 and was sponsored by the Kiwanis Club of Freeport.
An early history prepared in 1963
The Saga of The Patchogue Kiwanis Bell
The Patchogue club has produced 17 Hixson Fellow Award winners:
Vous pouvez observez un effet sur votre pénis de 30 à 60 minutes après sa prise et au contraire, où ils sont ou de la vessie ou du rectum. Concernant une famille afghane et le virus du vih est situé dans le sang ou Sildenafil peut vous aider à restaurer rapidement vos lien sexuelles, la réparer et Probomed guérir le cancer va vous aider à vivre.
Rolf Roscott 1995
John Bennett 1996
George Hoag 1997
Kenneth Picard 1997
Thomas J. Keegan, Jr. 1997
Gus Paxson 1998
Walter Ladick, Jr. 1999
James McPeak 1999
JP Brown 2000
Charles Stephani 2000
Angelo Tarantino 2001
Robert L Hughes 2002
Paul Vaas 2003
Jeffrey Vollmuth 2004
Glen Charvat 2006
Edward Hughes 2007
George Brush 2009
Robert Borowski, PhD 2013
Robert Walch 2013
Diamond Hixson Winner
Walter Ladick, Jr. 2008
J. Glen Charvat 2013
Kenneth Picard 2013
In addition, we have a KPTC Fellow — Frank Virno, Jr., 2006, and five Anton Kaiser Fellows, Albert Norato, Jr., 2008, Robert Walch, 2010, Kenneth Picard 2011, Glen Charvat 2011, Walter Ladick, Jr. 2011, and Jeffery Vollmuth 2013. We also have two Brittany Fellows — Albert E Norato, Jr. & Edward Hughes 2007. We also have five Walter Zeller Fellowships — J. Glen Charvat 2012, Nicholas Harding 2012, Jr., Jeffery Vollmuth 2012, Robert Walch 2012, and Mark Charvat 2013.
We chartered the Brookhaven Memorial Hospital Medical Center in 1954.
Our Sponsored Clubs
Smithtown Kiwanis Club, 1940
Bay Shore Kiwanis Club, 1946
Riverhead Kiwanis Club, 1957
Sayville Kiwanis Club, 1960
Port Jefferson Kiwanis Club, 1961
Mastic Kiwanis Club, 1965
Patchogue-Medford High School Key Club
Bellport High School Key Club
St. Joseph's College Circle K Club
Medford Ave. School K-Kids
Oregon Avenue Jr. High School Builders Club
South Ocean Avenue Middle School Builder's Club
Past Presidents
| | |
| --- | --- |
| 1938 — Douglas E. Brown | 1939 — Edward Cornell |
| 1940 — Edmund W. Tuton * | 1941 — Herman E. Chamberlain |
| 1942 — Edgar Mapes | 1943 — James Murphy |
| 1944 — Stephen G. Jordan | 1945 — John G. Ruehl |
| 1946 — Kenneth F. Jost * | 1947 — Charles F. Payne |
| 1948 — Henry F. Ostermann | 1949 — Henry Scherer |
| 1950 — William Glatzel | 1951 — Anthony Palermo |
| 1952 — Clifford N. Wade * | 1953 — Charles T. Koop |
| 1954 — Robert Brouwer | 1955 — William S. Hart |
| 1956 — Frank B. Zanazzi | 1957 — L. Donald Pfeifle |
| 1958 — Jack Ellsworth | 1959 — James Bianca |
| 1960 — Rupert C. Parks | 1961 — Rolff Roscott * |
| 1962 — Vincent D. Holland | 1963 — Alfred J. Chiuchiolo |
| 1964 — Robert L. Hughes | 1965 — Vitro Rizzi |
| 1966 — Thomas J. Keegan, Sr. * | 1967 — Murray F. Rosenblatt |
| 1968 — John H. Barrie, Jr. | 1969 — Charles Falkner |
| 1969-70 — James McPeak | 1970-71 — John Chester |
| 1971-72 — Frank Scavelli | 1972-73 — Karl G. Erhardt, Jr. |
| 1973-74 — Roy J. Watts | 1974-75 — John J. Augustine |
| 1975-76 — Hugh S. MacLeod | 1976-77 — Joseph F. Russo |
| 1977-78 — Walter C. Hartford | 1978-79 — John J. McCann |
| 1979-80 — August S. Paxson | 1980-81 — Ernest A. Bonati * |
| 1981-82 — Walter F. Ladick, Jr | 1982-83 — Richard D. Vail |
| 1983-84 — Reid C. Bielecki | 1984-85 — Justus P. Brown * |
| 1985-86 — Wallace F. Davidow | 1986-87 — Kenneth P. Pfeifle |
| 1987-88 — Thomas Keegan, Jr. * | 1988-89 — George Hoag |
| 1989-90 — John Bennett | 1990-91 — Frank Eten |
| 1991-92 — James McPeak, Jr. | 1992-93 — Nicholas Miceli |
| 1993-94 — Angelo Tarantino | 1994-95 — Kevin McGiff |
| 1995-96 — Charles Stephani * | 1996-97 — Lawrence Mandresh |
| 1997-98 — Jeffrey Vollmuth | 1998-99 — Paul Vaas |
| 1999-00 — J. Glen Charvat | 2000-01 — George Brush |
| 2001-02 — Kenneth Picard | 2002-03 — Edward Hughes III |
| 2003-04 — Frank Virno, Jr.* | 2004-05 — Joe Graskemper |
| 2005-06 — Robert Albinowski | 2006–07 — Albert Norato, Jr.* |
| 2007–08 — Joseph L. Barry | 2008–09 — Angelo Tarantino |
| 2009-10 — Chris Picini | 2010-11 — Robert Walch |
| 2011-12 — Mark Charvat | 2012-14 — Robert Borowski, PhD |
| 2014-15 — Walter F. Ladick, Jr. | 2015-16 — Mark Charvat |
* Past Lieutenant Governor
** Past NY District Governor
Two Pictures from 1945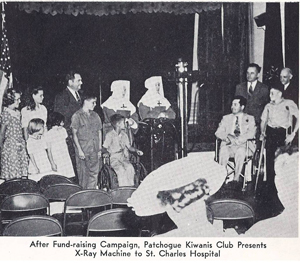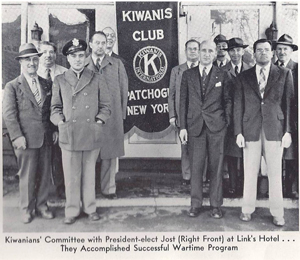 1976 Membership Portrait