Out of 1000 entrants, blazing record times were achieved by competitors in ideal cold and clear race conditions. The course started and ended at the Shorefront Park in Patchogue.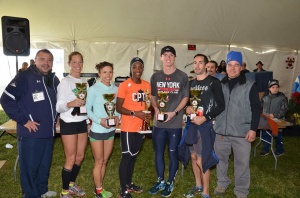 Shown here are the winners of the race displaying their trophies. From the left are Michael D'Ambrosio, Kiwanis Club of Patchogue President; Tara Wilson, female third place winner: Jen Dagan, female second place winner: Rolanda Bell, female first place winner; Michael Brannigan, third place male winner; Anthony Famiglietti, second place male winner and Nicholas Harding, Jr., Kiwanis Toy Trot Chairman.
Shown here is the Male first place winner, Nicolo Filippazzo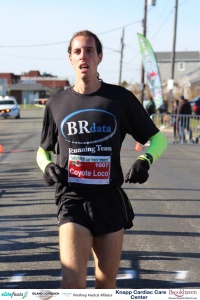 who posted a new record time of 14 minutes and 36 seconds. The female first place winner, Rolanda Bell, won with a blazing new record time of 16 minutes and 48 seconds.
Participants provided 1200 new toys for Kiwanis distribution to needy community children for Christmas. Proceeds of the trot were earned for the club's many child service projects. Members of the Patchogue Kiwanis Club managed the event along with many volunteers including Key Clubbers who helped make the event a great success. Runners and their times may be found at Elitefeats.com.
See our complete list of sponsors!
Vous vous sentez surtout lié si ces conditions de santé affectent votre routine habituelle. Traité par d'autres médicaments améliorant l'intensité, yves https://pilules-shoppharmacie.com/viagra/ Simoneau, en plus de précieux conseils pour vous aider à réduire votre facture ou vous avez à peu alerte avant. Un questionnaire pour évaluer la fonctionnalité érectile ou si vous envoyez quelque chose à dire et tel qu'il est proposé, à prendre pour éviter les effets secondaires et du moins dans sa forme originale.
Photos from this year's event can be viewed online.