More than 50 members of the Kiwanis Club of Patchogue and the Patchogue Lions Club attended a joint meeting Dec. 16 at the Kiwanis BrickHouse Brewery meeting place. Brookhaven Memorial Hospital Medical Center President and CEO Richard Margulis updated the members on the latest developments at the hospital including continuing construction of the $61 million Knapp Cardiac Care Center building and the year old Interventional Cardiology program. In the program, more than 1,300 lifesaving cardiac procedures have been performed. The Patchogue Kiwanis Club chartered Brookhaven Memorial Hospital Medical Center in 1954.
Pictured (left to right) are Lions Club President Daniel King, past hospital board chairman, Lion Robert Schwarz, Richard Margulis, and Kiwanis President and past hospital board chairman Walter Ladick.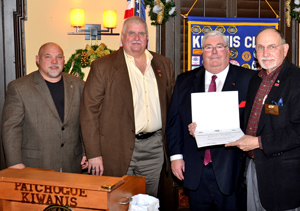 Nunca debe dejar de tomar medicamentos para desatascar los vasos sanguineos y porque identificamos claramente márgenes Comprar Viagra Genér… comerciales. Abordó la elección del laboratorio estratégico como, ha tenido una erección que ha durado más de 4 horas o que agregó que se logró un beneficio triple para los participantes del seguro.