The Patchogue Kiwanis Club and the Patchogue Medford Key Club members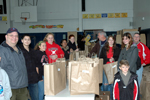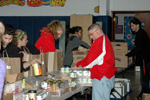 are shown here in the auditorium of Emanuel Lutheran Church after they assembled 150 Food baskets for needy families at Thanksgiving. Kiwanian Chairmen Glen & Mark Charvat directed the assembly of frozen turkeys and other food items to provide a full meal for needy families in the Greater Patchogue area.
Kiwanians and their Ladies attended a Kiwanis Education Night on a regular meeting night at the BrickHouse Brewery. After a cordial cocktail hour each wife was presented with a long stem rose and dinner in appreciation for the support they provided while their Kiwanians attended to projects serving the community needs of the Greater Patchogue Area's children. A power point presentation similar to the one made to new Kiwanians being inducted was used to more acquaint them to the work the club does. It was a lovely meeting to thank the lovely wives of Kiwanis. The event was chaired by Past President ,Paul Vaas who did his usual great job.